When it comes to menstruation there are several different options that women, trans men and non binary people with periods may choose. Every choice is valid and we all have our preferences, one-period solution is period pants. Purchased once, one pair can be used for around two years and replaces over 200 single-use tampons and pads, making this not only a comfortable but also sustainable solution to periods.
Period pants are leakproof underwear designed especially for the days of menstruation. Wearing period pants means that you won't need to wear a pad, a tampon or menstrual cup. The inbuilt leakproof layer means that you can bleed straight into them, and they won't leak through onto your clothes.
WUKA pants have been designed to give our customers the most comfortable period possible, whilst also ensuring that they are reliable and trustworthy.
The first layer is moisture-wicking which prevents both odour and fungal growth, giving you a fresh feeling for longer. Many first time users worry that after wearing the pants for longer than 2 or 3 hours they may smell. However, we want to reassure you that WUKA period pants do not smell and are in many ways much more hygienic than tampons or pads.
In the centre of every WUKA, there is an absorbent layer that is uniquely used by us which absorbs blood fast and draws it away from the body, leaving you feeling dry. There is also a leak-proof barrier, this is the layer that prevents blood from passing through the underwear onto your clothes, but allows airflow, so is breathable and prevents sweating.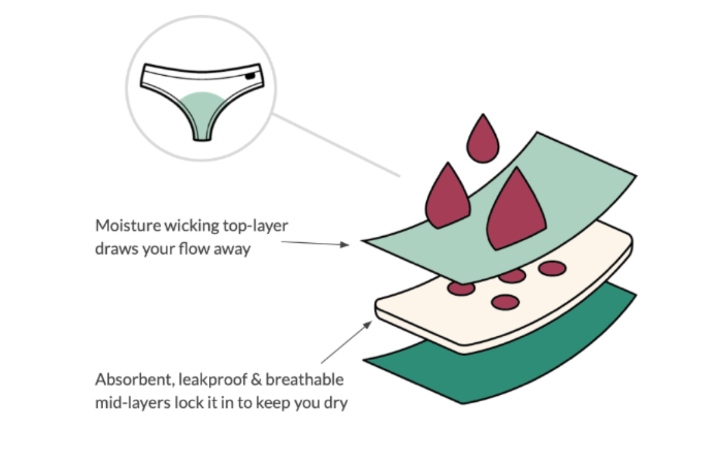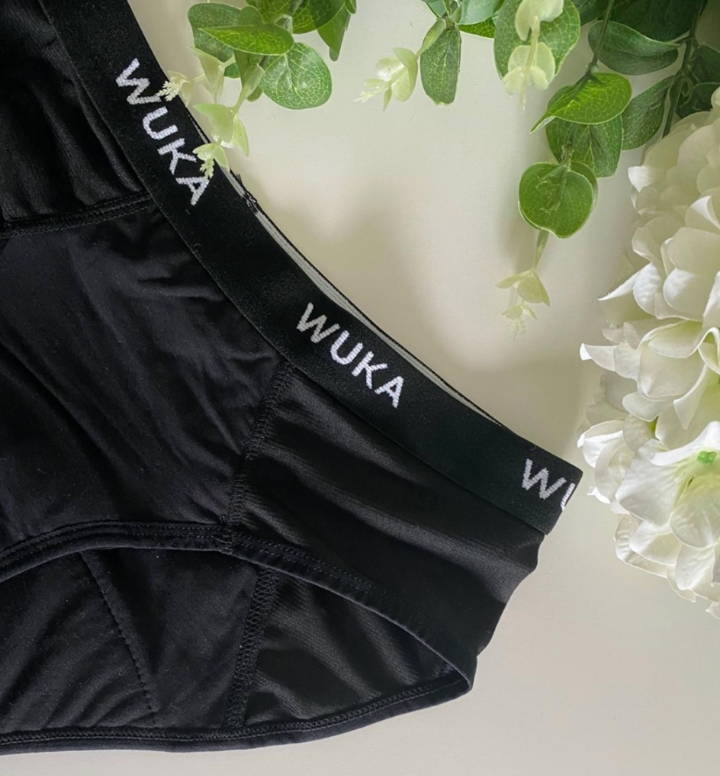 What chemicals are used in period pants?
WUKA Period Pants don't have any added antibacterial spray or silver treatment, nor do our period pants contain any harmful PFAs. They are safe for you, your health, sea animals and the environment. We conduct independent testing on our fabric to ensure no traces of PFOS or PFOA are present (the most notorious chemicals in most comfortable products).
Who are period pants good for?
Period pants are good for anyone with a period. WUKA period pants are suitable for those with heavy, medium and light flows and for people with all shapes and sizes. Period pants are great for:
Postpartum bleeding and new mothers

Teens starting their first period

People wanting to have plastic-free and eco-friendly periods

Sensory issues and disabilities

Sensitive skin and allergies

Vegans (all WUKA pants are Vegan Society approved)

For women, trans men and non binary people suffering from endometriosis and irregular periods

Light urinary leaks
Are period pants effective?
WUKA period pants are an effective and reliable solution for periods. We have had hundreds of five-star reviews and success stories from customers all over the world, who have tried WUKA and never looked back. Our period pants have been designed so that you can have a comfortable period, knowing that you are leakproof protected so that you can wake up kick-ass as usual.
We have a 40-day return policy meaning that you can try a pair and if they are for any reason not for you, you can return the pair for a full refund. Don't wait, try a pair today.
---
---