ETHICAL ❤️ SUSTAINABLE ❤️ IMPACTFUL
Everyday Light Leaks and Incontinence Pants for Women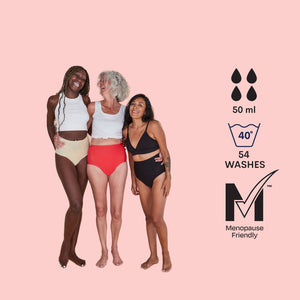 Female Founded

Menopause Friendly

BCorp Good for the Planet

Female Founded

Menopause Friendly

BCorp Good for the Planet
Female Founded

Menopause Friendly

BCorp Good for the Planet
Female Founded

Menopause Friendly

BCorp Good for the Planet
we created the most secure and comfortable undies for you
We designed these undies from scratch by listening to hundreds of women and their experience of incontinence pads. Every aspect is there to make you feel more secure and keep you dry.
Our reviews speak for themselves
★★★★★

The waistband comes up above my wound/scar, meaning there is no pressure at all. A hospital bag essential for any expectant mum! Xx

Sophie
★★★★★

My WUKA were in my hospital bag and they have held up beautifully against postpartum bleeding from the start. Not only that but the fabrics are soft and breathable

Penny
★★★★★

Very happy. Comfortable to wear, did the job I needed them for

Linda Peirson
★★★★★

Great swap!

Absolutely love my Wuka pants! Wish I discovered them sooner they are so comfortable and I never have to worry about leaks. Great swap for the planet too 😊

E.H.
★★★★★

Amazing. These pee pants work wonderfully for guys too, very discreet

B.H.
FAQ: Everyday Light Leaks and Incontinence Pants for Women
WUKA Light Leaks and Incontinence pants are designed for bladder weakness, stress or urge incontinence at any age and life stage.
The innovative aquaphobic outer material creates an impenetrable barrier, effectively locking out leaks even during moments of exertion. The inner built-in gusset, renowned for its high absorption capacity, instantly captures and contains moisture, ensuring it remains securely locked away.
We recommend washing your underwear before use to soften them up for a comfy fit first time
You know your body best and everyone has different levels to which they can hold urine. You should change your incontinence pants as soon as you feel wet after a leak.
Our pants are designed to be worn for up to 54 washes. Unlike reusable pads which can swell and feel heavy as you wear them over time, incontinence pants don't swell as much. You may get used to noticing the slight change in weight.
WUKA DryTech™ Incontinence pants differ from period pants because they are designed to absorb urine - a fluid with a different composition and consistency to period flow. In direct comparison to periods, the DryTech™ Incontinence pants absorb more liquid and are therefore labelled as "for heavy flow". However, in comparison to products for bladder weakness, WUKA DryTech™ pants are designed for stress and urge incontinence, commonly referred to as "light leaks". They currently hold the equivalent of 50ml or 10 teaspoons worth of liquid.
We know that worry of smells is a key concern for those with incontinence which is why our underwear has been made with Polygiene OdorCrunch™ - a fast acting technology that instantly removes odors.
Our DryTech Pants features anti-leak edging keeping you safe and secure from leaks.
Taking care of our undies is easy- simply pop the pants into our WUKA laundry mesh bag and wash on a 40 degree wash. You can rinse the underwear before washing them if you prefer, but this isn't necessary. Do not tumble dry or iron to ensure the integrity of the absorbent gusset remains intact.
We have two flattering styles - midi brief and high waist for extra coverage. Our innovative Stretch technology means one pair fits up to 4 sizes. Choose from Size 1 (XS - L) or Size 2 (L-4XL).
These pants are ideal for people experiencing stress and urge incontinence. 1 in 3 women over the age of 35 are experiencing incontinence.
Absolutely! More than a third of pregnant women experience involuntary urine leakage during the second and third trimester. As your body changes throughout pregnancy to accommodate a growing baby, the bladder can be placed under pressure. This is normal for many women during pregnancy. Our pants are a comfortable and provide maximum protection against leaks during pregnancy.
No, WUKA products have never included dangerous or harmful substances such as PFAS/PFOAS.
Unfortunately not. DryTech™ underwear is designed for lighter incontinence leaks - up to 50ml.
Polygiene OdorCrunch™ works as a natural anti-odor treatment that captures, 'crunches,' and permanently removes odors using natural silica particles, the primary component of common sand.
The technology consists of 95% filtered river water and 5% modified silica particles. The patented solution is produced in Sweden. No waste is accumulated during the production process, as all raw materials are converted into a final product.
Polygiene OdorCrunch™ technology is a natural product that consists of silica (sand), the main ingredient in sand, modified with a unique catalyst that breaks down the odor. Once the odor molecules are absorbed, they will be broken down and the odor is eliminated.
Polygiene OdorCrunch technology is not a biocide and isn't liable under the BPR (Biocidal Products Regulation). Polygiene OdorCrunch technology is a bluesign® approved product and is also Oeko-Tex® Eco Passport certified, as well as being registered under REACH. It won the SOG (Scandinavian Outdoor Group) Sustainability award in 2019.
No. You can't see the treatment and it doesn't change the look and feel of a treated textile.
Yes, treated products can be recycled. The best thing is to leave them to a textile recycling program.