What is the cost of your period?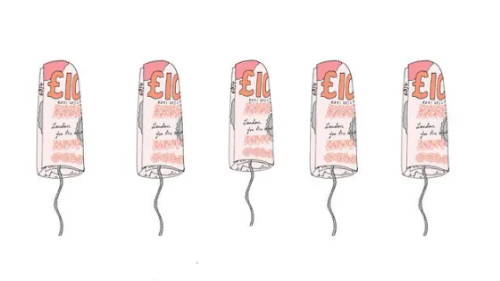 Do you know the cost of your period?
There have been many different accounts of how much we spend on a period – but we wanted to double-check and work out the actual cost of period products, along with the environmental cost, and see how WUKA compared. We think that you will be surprised at the results.
WUKA period pants are reusable and will last you around two years. We think that for one period you need around five to seven pairs – which you will wash, dry and re-use. The majority of the fabric in WUKA is made from CO2 neutral sustainable beech trees – except for WUKA medium where it is simple cotton. When you have used them for two years, you can throw them in landfill and the sustainable fabric will rot down. Our PUL, absorbent fabric and side mesh can be sent to recycling centre where they use the fabric to create a new fabrics.
We wanted to work out the actual cost of period products, along with the environmental cost, and see how WUKA compared to conventional tampons/pads. We discovered that WUKA reusable period pants are cheaper for your purse and are much better for the planet.
Tampons and pads are single use: you use them once and throw them 'away'; then you go to the shops and buy more, use them and throw them away – throughout your life! Pads are 90% plastic. Did you know that one pack of pads is the equivalent of 4 plastic bags? Tampons contain plastic and applicators are plastic too.
This plastic goes to landfill waste dumps, but plastic takes thousands of years to decompose. And, even though tampons and pads should be thrown in landfill and NOT in the toilet, Plastic Ocean UK report that in the UK 4.6 million single-use plastic period products are flushed down the loo EVERY DAY – and used products are increasingly found in our rivers and seas. Plastic waste kills up to 1 million seabirds, 100,000 sea mammals, marine turtles and countless fish each year and remains in our ecosystem for years, harming thousands of sea creatures every day.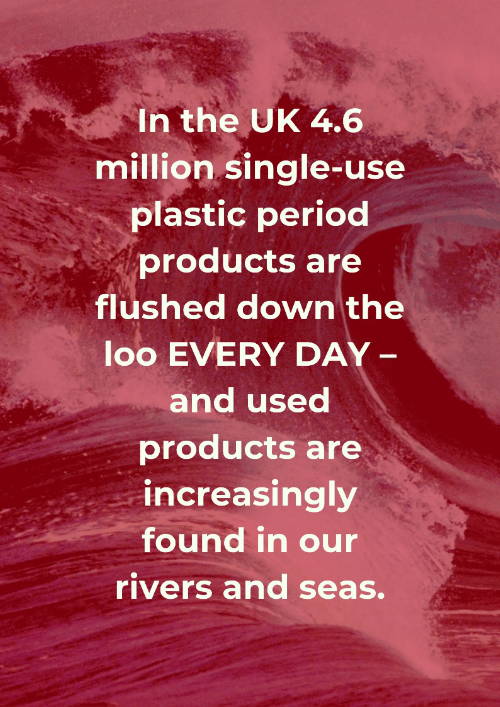 The business of consumerism
Tampons and pads are part of our consume, consume, consume, buy, buy, buy culture – and who cares about the waste problem we are creating on the planet? We suspect that fish might care when they try to eat the remains of the plastic pads.
The non-organic, traditional products that you find on supermarket shelves are also known to contain chemicals and experts worry that these may affect our reproductive system.
Organic tampons and pads are better for the environment and better for our health. They do not contain plastic or chemicals; and degrade more easily in landfill.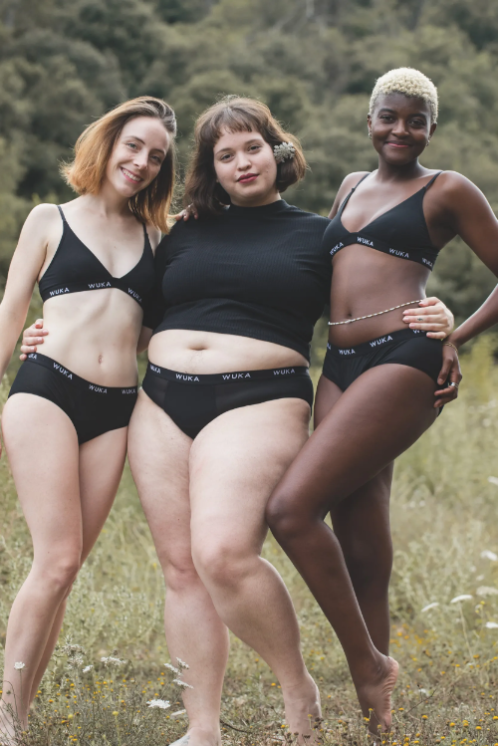 Making the Switch to WUKA  
When you use one pair of WUKA you are saving 100 tampons from going to landfill. That's a staggering statistic. By buying one pair of period pants you are making such a difference to the planet.
 The bottom line is that by switching to reusable period protection the impact on the environment is HUGE. We have a real chance to make a difference to the planet we live on and to hand it over to the next generation in the best possible condition.
So, that's the issue of waste – now what about the cost? We have used the UK Supermarket comparison site to compare the cost of popular non-organic traditional tampons and pads, organic tampons and pads, and WUKA sustainable period wear.
But how much do we actually spend for our periods?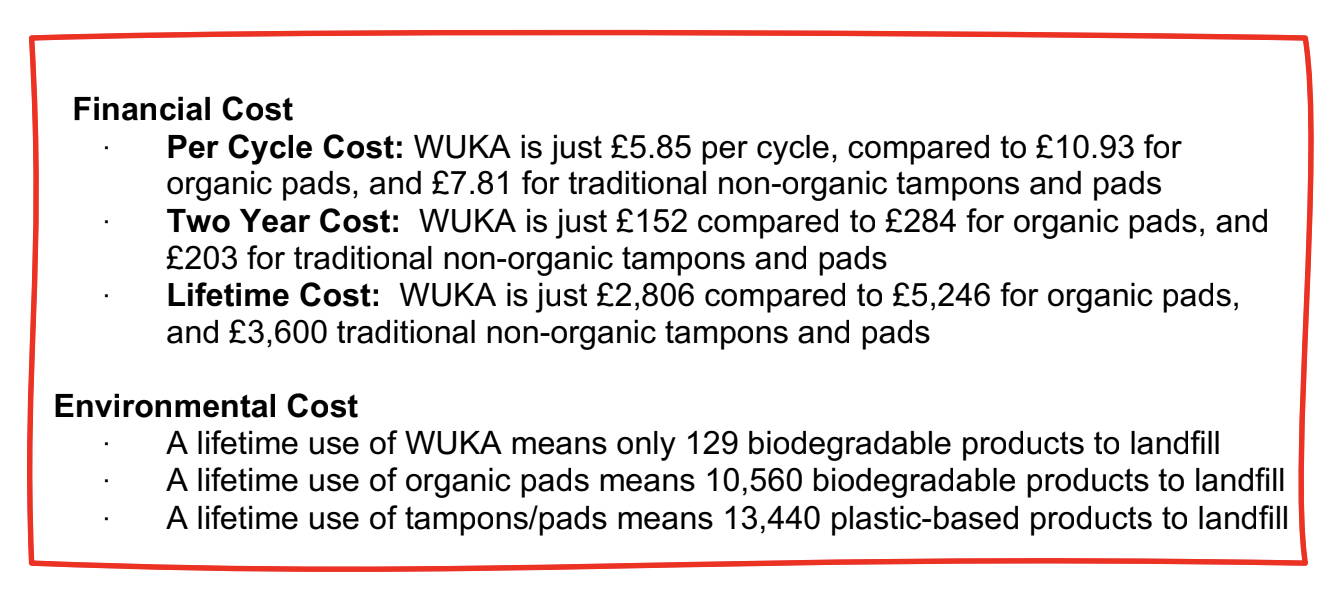 When we use tampons or pads, it is very common to have leaks of blood with staining on our knickers, and sometimes on bed sheets. You know, right? Well, we wanted to add in this cost so we calculated that on average we might buy 6 replacement pairs of knickers each year, and one bedsheet.
We worked out the cost of 6 M&S value knickers and one double cotton bedsheet – and it came to £34 a year. What happens when we cost this up?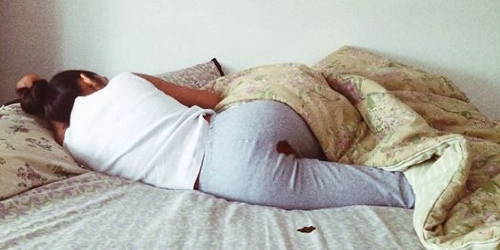 The actual total cost of your period.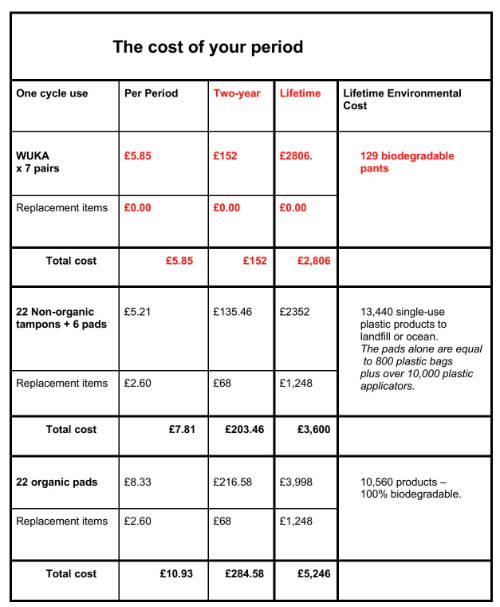 WUKA is a cheaper product to use for your period when you think long-term, and there is scarcely any comparison when you see how lightly WUKA touches the planet. So don't throw all your hard earnings on something that is expensive, creates tonnes of landfill and sea pollution and make the switch to WUKA Period pants.
---
---