Let's talk about period poverty
Let's talk about period poverty

Did you know that there is still a lack of access to period products? Even though we may see it on every supermarket aisle, pharmacy or corner shop? While there are plenty of period products available, they are not accessible to everyone.
As of January 2020, UK schools were encouraged to start applying for the free government-funded period products initiative.


This World Menstrual Health Day (28th May 2021), we need to address the fact that period poverty is still an ongoing issue.

10,000 primary and secondary schools are being urged to apply and fund their students with free period products to help alleviate period poverty. The scheme has now been extended, and is being delivered by Phs Group. Schools are also given the option to order eco-friendly or reusable products.
We found that prior to the coronavirus outbreak, 41% of Brits experienced period poverty. And due to the pandemic, 36% are now experiencing period poverty for the first time ever.

With this free period-products for students government scheme, students will be able to access products and avoid missing school if they do not have access to products at home, which tends to be common if an individual is suffering from period poverty. This is due to the upsetting amount of shame and stigma around the topic of periods.

What may seem like a simple act of declining an invitation to a party or social event may be masked by the humiliation of leaking, or not being able to sit on public transport without the anxiety-riddling fear of bleeding onto the seats.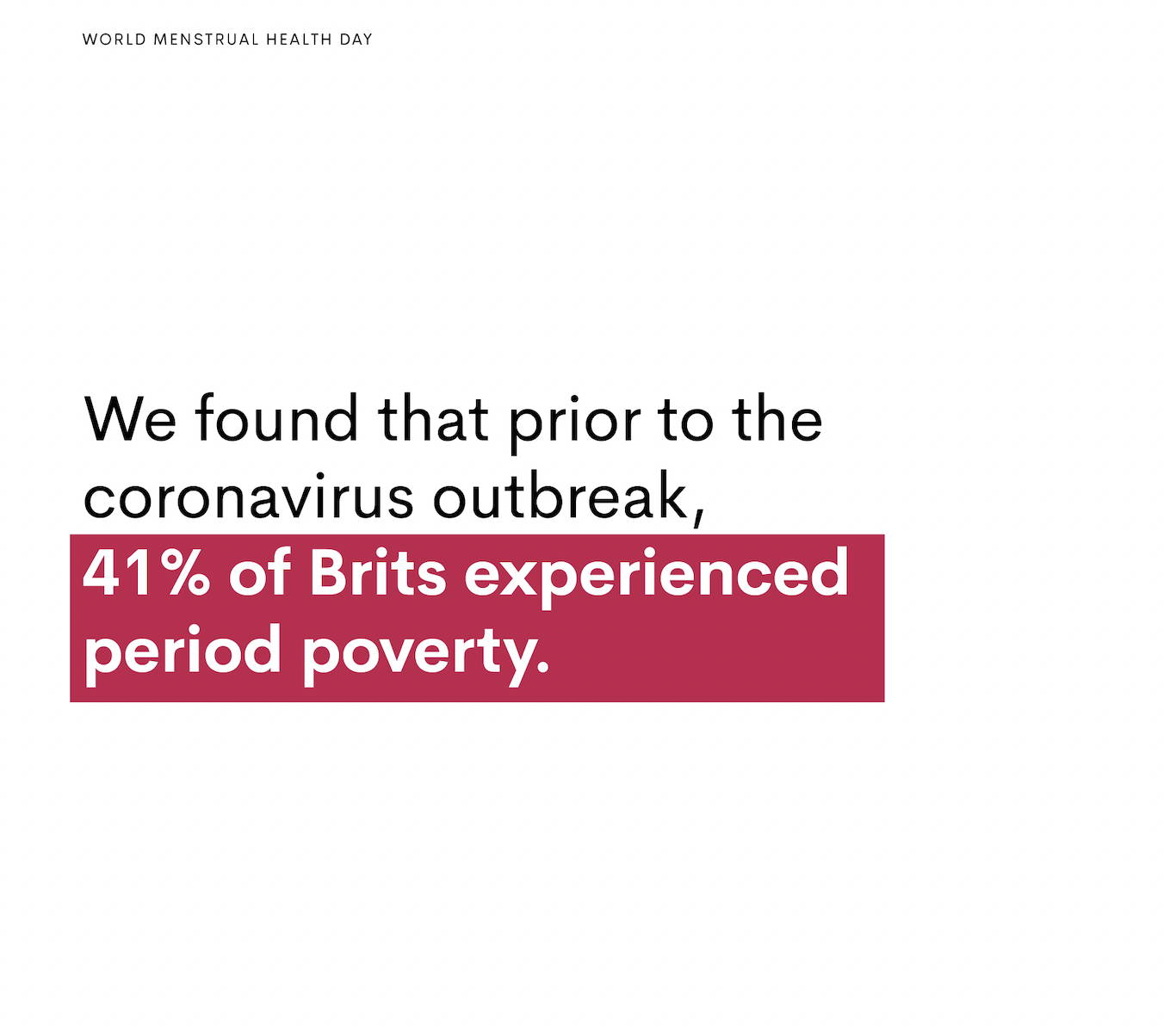 Why are we still so ashamed about something as natural as bleeding?
Periods are normal. They're a part of life.

Those of us who bleed quite literally hold the power of reproduction. Our bodies bleed because we're simply releasing eggs. Our ovaries release estrogen and progesterone and our uterus lining builds up and is ready for a fertilized egg. When there is no fertilized egg, the lining breaks down and bleeds. That is a period.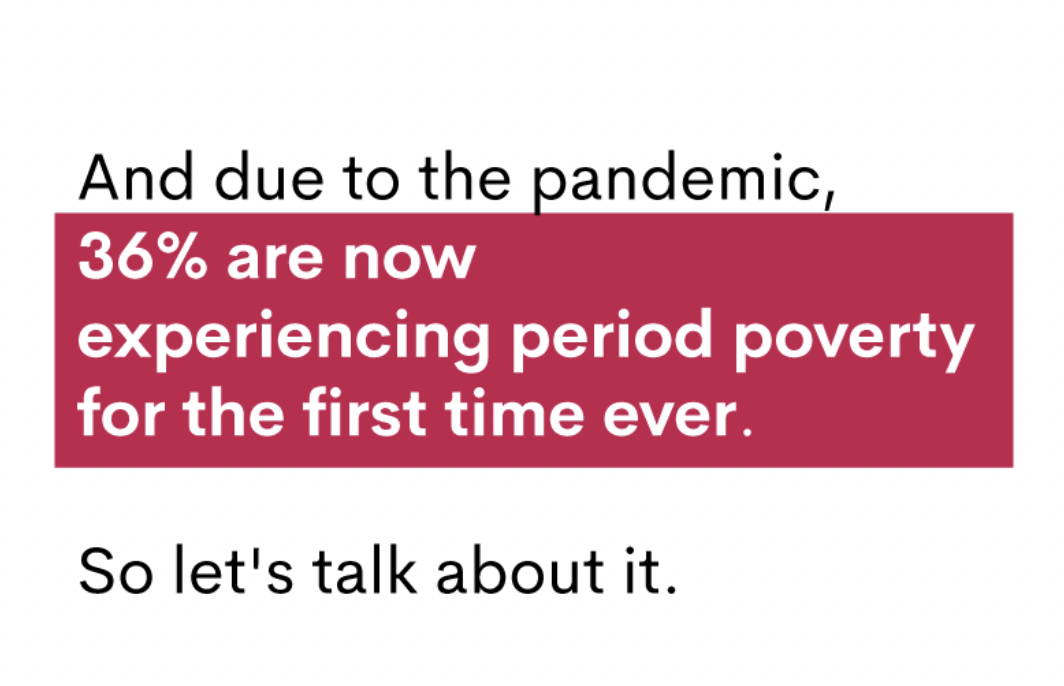 We also found that 42% of Brits have had to substitute a period product with toilet paper and 25% had to go about their day with just one disposable period product (tampon / pad) and make that last. Which is physically impossible. And unhygienic too!


The health of individuals suffering from period poverty can also be put at risk if they're unable to access a sufficient amount of period products. Around the world, those who suffer from period poverty are forced to use dirty rags which can cause infection. And there are many who still use folded-up toilet roll as a substitute for a pad. It was found that 40% of UK girls have had to use toilet roll because they cannot afford period products.*



10,000 schools urged to apply for free period-product scheme
Nobody should be held back from accessing period products or education about it. We urge you to ensure that schools in your area have applied for this scheme, and ordered period products from Phs Group (Personnel Hygiene Services Limited).

Having a period should never be a barrier to education or life. Phs Group are supplying period pads, eco-friendly pads, reusable pads, applicator tampons, non-applicator tampons and menstrual cups and are urging schools to take part. Schools are not charged for these products or delivery.
This comes after VAT on period products (disposable products i.e. tampons, pads) was abolished. However, the government have failed to remove tax on reusable period pants. Removing VAT on reusable and sustainable period pants can contribute in helping alleviate the stress and frequent purchase of disposable period products for individuals. It also reduces the amount of plastic filling our landfill, especially if 36% of schools are ordering tampons and all schools have requested pads. With reusable and sustainable period pants, the simple act of washing and reusing will not only encourage a sustainable period, but will be able to last 2+ years. This would ensure that pupils will have a product to use when on their period.



-
Here's a list of charities and websites that help bring awareness to period poverty.
Get in touch with your local school and let them know about the scheme today.

https://www.gov.uk/government/publications/period-products-in-schools-and-colleges/period-product-scheme-for-schools-and-colleges-in-england

-
Links to find support if this is something you are experiencing, is relevant to you, or you want to learn more, support and raise awareness.
https://www.gov.uk/government/publications/period-products-in-schools-and-colleges/period-product-scheme-for-schools-and-colleges-in-england
https://www.freedom4girls.co.uk
https://www.gov.uk/government/publications/period-products-in-schools-and-colleges/period-product-scheme-for-schools-and-colleges-in-england

https://www.rcn.org.uk/clinical-topics/womens-health/promoting-menstrual-wellbeing/period-poverty#:~:text=Period%20poverty%20is%20the%20lack,regular%20occurrence%20in%20her%20life."
https://periodpoverty.uk



Sources:

* https://www.sec-ed.co.uk/news/free-period-products-more-than-10-000-schools-still-to-apply-poverty-disadvantage-funding-tampons-pads-menstruation/


https://www.gov.uk/government/publications/period-products-in-schools-and-colleges/period-product-scheme-for-schools-and-colleges-in-england
---
---